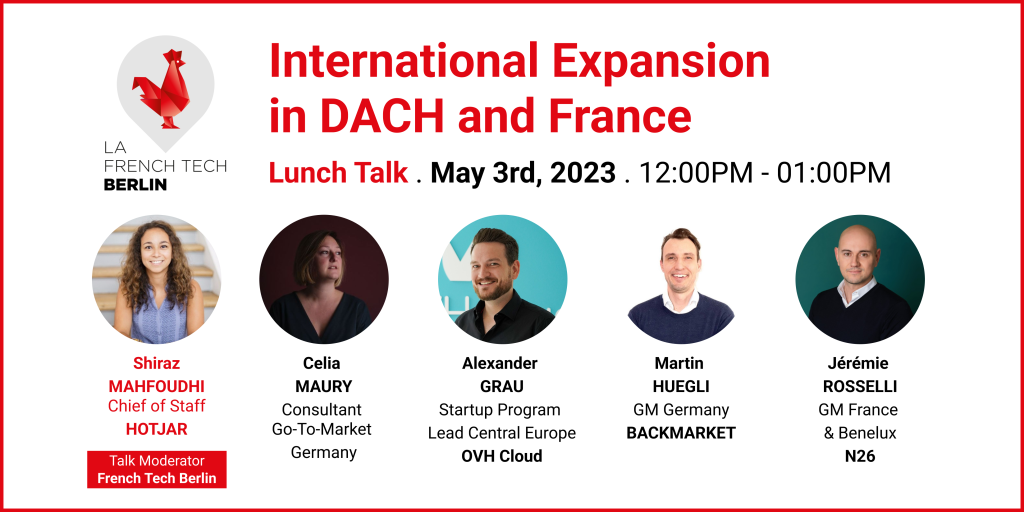 Why should a company expand to Germany or France ?
Once you knew you wanted go expand to DACH/France, how did you enter those markets ? How did you approach the entrance ? Market research ? Identified potential acquisition opportunities ? Strategy ?
Following the funnel, the process of launching… once you launched, what were the main learnings ?
Is the trust topic specific to healthcare or valid for all industries?
Organization of the team : Recruiting : who do you hire ? When ? How do you build your team and transform your internal team ? Do you have localized functions versus centralized functions ?
Right now, we are in a different economic situation then when your company decided to expand internationally. Do you see this as an opportunity ? Advice to companies who want to expand now ?
Q&A 1: How is your approach for expanding to Austria and Switzerland ?
Q&A 2: For your marketing budget, do you use only Google and Meta to expand to other countries, or do you use more local media too ?
Talk moderator
Shiraz Mahfoudhi, Hotjar, French Tech Berlin, ex-Malt
Chief of Staff at Hotjar, and prior to that worked at Malt international expansion, a freelancer marketplace. Passionate about this topic.
Presentation of the panelists
Celia Maury, Go-to-market consultant, ex-Doctolib
French, living and working in Germany for 10 years. Started in Munich then part of the launch of Doctolib 2016 and since 2019, working as go-to-market consultant for french startups and scale-ups who want to expand to Germany, with internal or external growth.
Martin Huegli, Back Market
Based in Munich, Germany, working for Back Market,marketplace for refurbished electronics that has grown rapidly since 2014. Now in 16 different markets, oversee German, Austria, Netherlands markets. Worked for a long time at Amazon, b2b, then also managed sales teams in the US and Europe. Now doing both at Back Market.
Jeremie Rosseli, N26
General Manager for N26 in France and Benelux. Joined 6 years ago, at the time when it was a small german startup, leading the internationalization. Previously was working at BurgerKing in Germany to launch the French Market. Experience in b2c launch between France and Germany.
Alexander Grau, OVHCloud
Startup program lead at OVHCloud. European leading cloud hosting provider, we offer specific programs for startups. Before OVHCloud, worked as ecosystem builder for startups in Hessen.
Writer of these lunch talk notes, video edition :
André Pitié, Startups Founder, French Tech Berlin
1.Why should a company expand to Germany or France ?
The DNA of the company was international from the beginning. Everything was in English, european regulations, mindset of the founders head was to grow internationally. There was no job offer for expanding to France. Approached N26 explaining experience in internationalization, asked to call back if interested. Same at BurgerKing, came "from the outside" and got hired to manage expansion from Germany to France.
Doctolib : need to become a leader in France AND Germany to become the number one in Europe in order to face the giants of US, China, India. Made a qualitative study interviewing startups, motivation number one : test their scalability model outside of their first country. More revenue to be more credible at international level.
Martin Huegli, Backmarket
You build for international. If you are VC-backed company, you have to demonstrate growth, it's part of the story. You have to have Germany. Many large companies looked at companies, few have succeeded. Many country managers think Germany is a tougher market. E-commerce model should be very scalable. Gateway to Central Europe. Number one or two market to start with in Europe.
Also DNA at OVHCloud is to be a European company. Data sovereignty is important for many customers in Germany. Challenges to conquer german market in B2B area. Especially for startups. Big competitors here, especially the americans are already very big here, even when as a French startup you offer a lot of free credits, it's not easy.
2. Once you knew you wanted to expand to DACH/France, how did you enter those markets ? How did you approach the entrance ? Market research ? Identified potential acquisition opportunities ? Strategy ?
First : Go/No-go. You got money, you want to expand, which markets are coming first ? Need to adapt the product ? The business model ? Legal barriers ? Competitors in the country ? Sales and HR strategy. Product adaptation. Mapping and connecting with your potential partners and prospects. Connect to Key Opinion Leaders (KOL). Research the market before recruiting. Especially in the health-market market. You have to make product demos, does it make sense for the KOL, identify pain points, how to address them,. KOL are the door-openers for all the prospects and important people.
Our products are very scalable. Need of a lot of education, to explain why we are better than competitors. Working with partners who already know our USPs to BUILD TRUST in the startup ecosystem.
First thing to enter a new market : beyond demography, what is the P&L (Profits and Loss) ? For example, Netherlands is probably more profitable than Portugal. Have people on the ground who can explain you what needs to happen. In Germany, you need Germans to explain you what's needed. For example here at N26, I need to explain regularly to my German colleagues what is a Livret A (deposit saving account) in France, explain the local needs. You only get that by having local people who understand the market, the must-have, the behavior already to make this happen. People who can give you a high-level view of what it's going to look like. What needs to be delivered, to be successful in this market. It's critical to do that BEFORE starting the overall process.
Marketplaces are very simple. Once it's there, you need to put it on a separate domain, and you are pretty much ready to sell. Relatively easy to open new markets. As long as your CAC / LTV relation is positive (Cost of Acquisition, Life Time Value), we are good to go. Problem happens more after we scale. Once you are more competitive, you can struggle, need to figure out what works in a crowded market. Initially for us, it was quite smooth, then every crashed, didn't go as plan, and then you look at what needs to change. But indeed first, you should build for scale since the beginning, to port your model to other markets. Pulling back from DACH (Germany-Austria-Switzerland) was not an option, no soft-launch. Very determined to be number one in Germany. Europe is our own base, Germany is an essential part of it. As you go more global, more decisions to take. US is our biggest growth market now, how do you balance your investment between continents, countries. How do you find the right level of efficiency that gets you to where you want to be while keep the flexibility to grow the portfolio accross other markets.
3. Following the funnel, the process of launching… once you launched, what were the main learnings ?
B2C marketplace, really important to know how consumers make decisions. Key learnings : trust, price sensitivity, competition. Big part of our business is refurbished electronics. Consumers see this as a commodity, hard to understand why they should pay more for a device that is the same as on other platforms. Our success comes from understanding these decision-making patterns, try and experiment, innovate. It's been good for the company as a whole to have such a challenging market as Germany. The German team managed to crack the market, with flexibility and a reasonable level of autonomy. So the learnings from Germany could be applied to other countries. Same for the US: it's 2-3 years ahead of Europe, so if you want to grow in that market, you need a very flexible and autonomous team to learn fast. Key to the success in Germany therefore was to let germans do german stuff. When I came in 2,5 years ago, we had already some german people working at different positions (marketing, customer support…), german natives located in France. They all voiced criticisms about how we were operating in Germany, language use… and nobody seemed to listen. Even if you can't tailor too much and adapt to all the local needs, you nevertheless need to give reasonable autonomy and flexibility locally to test and experiment, because the learnings you will get there can potentially be applied to other markets, and Germany is a very good testing ground for this. Nevertheless at Back Market, Belgium and Spain were launched before Germany, who followed soon after.
At the end of the day, you have resource constraints. So when you expand, you need proper governance about how you are going to make tradeoffs and allocate resources. The risk is that it's tempting to go everywhere, but you will always have bottlenecks, and at that moment, you should avoid internal fights. You should have agreed beforehand how you will make these decisions, trade offs. We opened the US and then left the US : we realized we didn't have enough resources to go there. Autonomy is also important, that's what we did in Brazil. But all in all, you need to be mindful of your own constraints and resources : whatever the size of the market, big or small, governance is critical, you need to acknowledge what needs to happen before you go.
Do not underestimate recruitment. In the healthcare system, you need some local product adaptation. If you can, try to technically anticipate the bandwidth, the time that will be needed for that local adaptation.
Time is trust in Germany. It takes time to build trusted relationships. You won't get this in 2 months. Germans need to know you, your product, they are very factual people. Relationship with them takes time to be built.
4. Is the trust topic specific to healthcare or valid for all industries?
In the B2B area, building trust is also very much needed to be acknowledged as a valid player.
Martin Huegli, Back Market Germany
Germans are not the type to jump on new opportunities, much less than in the US. It takes a lot of time to build trust for all public : B2B, personal, VC… Building a brand is key, it's the expression of trust, you need to amplify this to a measurable level, and it's very tough. It takes time.
Trust is key because we are a financial institution. So by design we need trust. German banks bring a good trust factor naturally in the eyes of the French public.
5. Organization of the team : Recruiting : who do you hire ? When ? How do you build your team and transform your internal team ? Do you have localized functions versus centralized functions ?
Martin Huegli, Back Market
Recruiting is so specific by function and level, hard to cover this topic.
Organization, function vs local : you go first local, and then you go functional, and then go back, too functional and back to more local. It's always a calibration, an evolution. You start functional : marketing does marketing, customer care does customer care for example. Then you realize there are issues so you start to add local people responsible for parts of that function – local within the function. Then you see it's not scalable so you go back to functional. And that's healthy, you elevate the game. As you mature, the skill sets will be different. After the first cycle, when you go back to functional, the skills sets you have here are way stronger than initially. It's a necessary evolution, as you scale, to go in between. You need to shake up the entire organization, move people to functions. Disrupt the org, reorg. It's not unusual to have 3-4 reorgs per year. Important here is to manage culture really well to keep everyone aligned on the same objectives and onboard. It's not always possible, but you have to be agile. You have to adapt to the current market situation all the time, evolve. It's all about evolution and ping pong between the two.
How do you have functional teams keep a local touch : market teams in Germany ? We used to have German marketing specialists. But as you mature, a lot is represented in KPIs (key performance indicators), you can track customer satisfaction, conversion rate, click volumes, and as you go into functions, the metrics become more important. You need one function to look at market KPIs, that could be an isolated work for one market or multiple markets. But you need to look at the development of KPIs and then challenge the functional departments. For marketing for example if there is pressure on the KPIs, there will be questions, how do the ads perform, what is our setup, do our ads work locally, so you go into an audit with an agency or with your internal team. But as you move to this second iteration to functions, the KPIs become a lot more important, and they will point you to where you have deficiencies. Somebody needs to challenge the functional teams, keep them on their toes, we do that very well. And then you can make sure that individual markets are also at a very high competitive level, despite not necessarily having a local person in the market driving this.
When you recruit in Germany, people are more expensive than in France. And you have a market with little unemployment, 5,5%. You also have different mindsets in Germany and France. For example the "grandes écoles" (selective higher education) system in France produces generalists. People who can understand a broad range of things, very adaptable, flexible, and can have an overview of the things. The German higher education system produces more specialists, experts in one topic. Some of my clients don't understand this mindset in Germany. Of course before you hire a first employee in Germany, you can start by hiring a german-speaker in France, if you want to have a first foot in the door.
Also important to start doing everything in English. When I started at Doctolib in 2016, we had everything in French, and it was complicated to understand for the German people, because they stayed in the background due to the language. Also, do not make any difference in terms of careers between your domestic market and abroad. At Doctolib we had success with building french-german pairs by function, in order to facilitate the communication, the questions, exchanges outside of the bigger group, it was very good to have a reference person you can ask anything anytime.
Replicate French organization in Germany or different ? We started hiring sales people, the key to the success. Then we hired account managers. Then HR people, then marketing people. So it was indeed at the end a replication of the French structure, but not at the beginning, step by step. We also had a reference person per region or city as we opened new cities in Germany. For example, someone from Lyon, France and he was visiting us every month in Berlin for 2-3 days. When you have a bigger group it's harder to ask questions, it was better to have a reference person.
First if you are a German company and you want to go to France : start hiring french speakers in Germany, and vice-versa. First hire people from your target market in our home country. It will help you understand the people, how to recruit. Then, you need to build a local team from the top. Hiring a country manager, somebody senior enough. Don't start with somebody of medium seniority. You need a senior manager but with a hands-on mentality. Someone that will understand what are the needs. In my case, it was marketing because we are b2c and need to grow. In some cases you probably start with sales or legal. The need will come afterward. But it's easier if you start from the top and that person will bring the right competencies on board based on the target market needs. A big mistake would be to hire the whole team at once. It was possible at Uber or Wework maybe. Sometimes this works, sometimes not. But that's a massive cost. It's better to have this mix between local and global / functional. It's almost a dance, a mix between the two. But nevertheless, whoever the people are reporting to, at the end of the day, within a global team, you need people dedicated to local markets. I'm not managing customer service, that's managed globally, but we still have people dedicated to the French market. Even if everybody reports to global functions, the global functions only manage the global topics by design and local topics as priority number two. Always good to have local managers. Have a French general manager in France for a German company, and a German general manager in Germany for a French company. Always recruit a local leader. As a global leader, you focus on global topics and you need to be able to delegate the local decision making, making sure that people are taking care of the local topics.
At OVHCloud, we have the structure described by Jeremie. General managers in every location and cluster. Also our startup program team, we have a global leader, but in each cluster, we have startup program leaders like me or experts who understand startups and their local needs.
6. Right now, we are in a different economic situation then when your company decided to expand internationally. Do you see this as an opportunity ? Advice to companies who want to expand now ?
Martin Huegli, Back Market
Cash is very tight. Recession has an impact on consumer demand. There is a reshaping and recalibration in the market that bears opportunity. Right now, any company has a clear edge that they can ride. If you have an edge to be more profitable at scaling. It's a very opportune time. Because a lot of the traditionals are struggling. They rebuild their value chains, refocusing. We haven't seen this play out quite yet. There is going to be a lot more change. Different business models. We are just in the middle of this process. If you have a real edge, now is the time. You can establish yourself based on that edge in the market quite rapidly, as the others just defocus, deprioritize…
Less intern growth. More cross-border M&A deals. Germany has a bigger bootstrap culture compared to France. Last year, more than 200 German startups were acquired. Remarkably, the acquiring companies were more Europeans than than Americans. As for the healthcare ecosystem, we have a very fragmented market. Many startups emerged during the pandemic. 44 players for telehealth for example. Consolidation is needed. Good moment to do cross-border M&A.
Q&A 1: Difference between expanding to Germany, Austria and Switzerland ? Different approach ? Investment ? Start the 3 countries all at once ?
Germany is the number one in the DACH region. Then Switzerland and Austria. One of her clients says "Austria is like another region of Germany".
Germany first too here, only testing, experimenting in the other countries. 95% of time is dedicated to Germany. Even if Austria and Germany are similar, culture is not exactly the same.
At Malt, Germany was first as well. Austria could have been a good first test market to test a smaller region, stakes are lower, good to test before Germany.
Q&A 2 : For your marketing budget, do you use only Google and Meta to expand to other countries, or do you use more local media too ?
Depends on your budget. Started with zero budget. Did all the PR myself. Danger to put everything on Google and Meta. Risk if you don't control your KPIs there, conversion rate, retention… Internal image of "purchasing the equivalent money of a Ferrari" every week or every month with Google and Meta. Maybe not the best way to invest your money. So you can do it, but only if you are ready to manage it efficiently.
Martin Huegli, Back Market
Depends on the objective. If direct response or create demand on the brand side. Mix of channels. Find the right balance between the channels based on your business objective. But if you are in an industry where you depend on performance channels to drive new customer acquisition, you cannot do it with the usual suspects. You have to figure out at what level. What is your ad spend across these platforms. What efficiency thresholds are you going  to reach? How do you balance your investments between the buckets. How much do you put on demand creation versus performance. On the brand side, how do you track that, how do you measure, how do you scale. Also very important to have a built-in recommendation function where you generate referrals. That's often ignored by companies early on but one of the healthiest ways to grow. No general answer but if you to scale and your customer acquisition depends on performance marketing, then of course you need to work with the Google and Meta, but pay attention to optimize this. 
Meeting notes, video edition : André Pitié