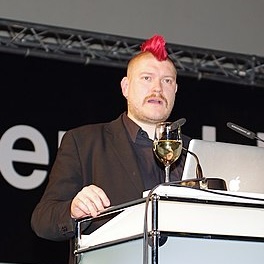 Born on May 11, 1975, in West Berlin, is a multifaceted individual known for his extensive contributions to the German digital landscape. As an author, publicist, journalist, blogger, and copywriter, Lobo has been a prominent voice in discussions related to the internet, its culture, and the implications of digitalization on society.
Personal Life:
Sascha Lobo is the offspring of an Argentinian father and a German mother, who is an archaeologist and art historian. He grew up in Berlin-Wilmersdorf and graduated from Friedrich-Ebert-Gymnasium in 1994. Lobo's educational background is diverse; he initially studied Journalism at the Freie Universität Berlin, followed by Biotechnology at the Technische Universität Berlin. In 1998, he embarked on a study of Social and Economic Communication at the Universität der Künste Berlin, earning his diploma in 2013. Lobo has been open about his ADHD diagnosis. Personal relationships include his marriage to blogger Meike Stoverock until 2020, and, as of 2021, his marriage to podcaster Juliane Lobo (formerly Juliane Wieler) with whom he shares two children. They reside in Berlin-Prenzlauer Berg.
Career:
In the early 2000s, Lobo founded an advertising agency specializing in the New Economy, which faced insolvency by the end of 2001. Subsequently, he worked as a creative director in the internet sector for a Berlin-based advertising agency, freelanced for advertising campaigns, and contributed to the magazine "Blond". He claims to have worked for a third of the DAX-listed companies over the years.
2005 marked the beginning of Lobo's blogging career with "Riesenmaschine," an award-winning blog that showcased novel inventions. In 2006, he co-authored a book titled "Wir nennen es Arbeit" with Holm Friebe, which discussed digital work beyond traditional employment. He was also involved in the Central Intelligence Agency as an unofficial member, parodying the term IM.
In 2007, Lobo co-founded the blog marketing company Adnation, which was later acquired by Mokono in 2011. He has written columns for magazines like "Tomorrow" and contributed to the 01blog of Cebit. His collaborations also extend to Kathrin Passig, with whom he authored the book "Dinge geregelt kriegen" in 2008. In 2009, he launched his personal blog, saschalobo.com.
Lobo's prominence was further cemented with various appearances on television, including being featured in the documentary "Der Loboist" on Arte in 2009 and co-hosting the segment "Sixtus vs. Lobo" on the computer show "neues" on 3sat from February 2009 to August 2010.
His association with the telecommunications company Vodafone in 2009 sparked controversy, with many accusing him of commercializing Web 2.0. In 2010, Lobo took on the role of "Editor-in-Chief for a Day" for the Koblenzer Rhein-Zeitung. The same year, he released his novel "Strohfeuer," which delved into the New Economy.
Lobo began writing for Spiegel Online in January 2011, advocating for a more open culture of online discourse. His endeavors also include the co-founding of the e-book platform Sobooks in 2014, though it was discontinued in 2018. In recent years, he has produced documentaries for ZDFneo and penned the book "Realitätsschock" in 2019, discussing contemporary societal shifts.
Politics:
Lobo's political affiliations include membership in the SPD's Online Advisory Board from 2007 to 2009 and the Initiative D21 from 2008 to 2010. He was among the initiators of the Charter of Digital Fundamental Rights of the European Union released in November 2016. Since 2017, he has been a member of the Digital Council of the Lower Saxony state government.
Reception:
Lobo's distinctive appearance, characterized by his red mohawk (later dyed pink in September 2022), has been a hallmark of his public persona. He has often been labeled as a spokesperson for Web 2.0, and while some laud his insights, others criticize him for his omnipresence in media. His knack for coining new terms, like "Digitale Bohème" and "Shitstorm," showcases his influential role in shaping the digital lexicon.
In November 2019, during a talk show, Lobo expressed the need for regulation of certain opinions, leading to some backlash from media outlets accusing him of curbing freedom of expression.
Publications:
Lobo's bibliography is extensive, ranging from collaborative projects like "Wir nennen es Arbeit" (2006) and "Riesenmaschine" (2007) to solo endeavors like "Strohfeuer" (2010) and "Realitätsschock" (2019). His writings often revolve around the digital landscape, societal implications, and the evolving nature of work in the age of the internet.
Legacy:
While Sascha Lobo is a divisive figure in the digital realm, his contributions to the discourse on the internet, its culture, and its societal implications are undeniable. His ability to encapsulate complex digital phenomena in relatable terms has made him a sought-after commentator, even if that has come with its share of controversies.