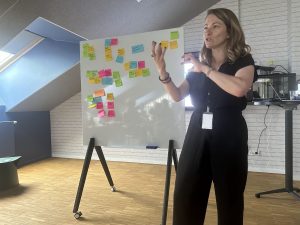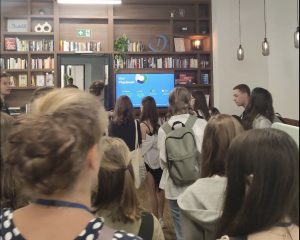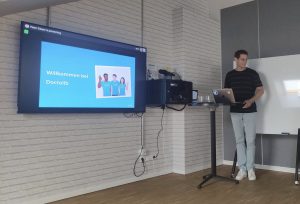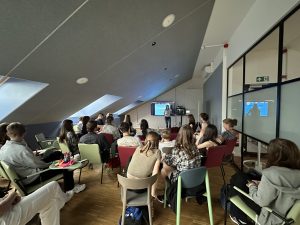 In the tech industry, where innovations know no borders, fostering international connections and enabling young generations to step into the global scene is paramount. French Tech Berlin, an organization dedicated to knitting the French and German tech ecosystems together, recently orchestrated an event with this very mission in mind.
In partnership with OFAJ/DFJW (Office Franco-Allemand pour la Jeunesse / Deutsch-Französisches Jugendwerk), an initiative was born to meld the educational and start-up spheres, connecting German high schools with French tech companies. The aim is as innovative as it is necessary: to kindle an interest in tech among students and to break down language and cultural barriers between the neighboring nations.
On June 20th, 2023, in Berlin, health tech company Doctolib opened its doors to 20 inquisitive minds from Theodor-Fontane-Gymnasium Strausberg. The event, steeped in a spirit of sharing and exploration, provided these young individuals with a rare glimpse into the inner workings of a thriving tech company and, by extension, the professional realm of Franco-German collaboration. Peter Glaser and Amandine Faye from Doctolib, Eva Joly from OFAJ/DFJW, and André Pitié from La French Tech Berlin generously shared their journeys, experiences, and advice with the visiting youngsters.
"Journée Découverte Franco-Allemande: Unleashing Opportunities"
This event is part of the "Journée Découverte franco-allemande," a cross-national initiative that invites students from as early as the 6ème in France and 7. Klasse in Germany to explore various enterprises and institutions in their region which have a strong operational bond with their neighboring country.
The "Journée Découverte franco-allemande" is not merely a tour but an expedition into the professional world, designed to spark students' curiosity about the language and culture of the other country. It is a commitment to inclusivity, focusing especially on youth who may have limited access to international mobility programs.
Beyond worksite visits, the program annually orchestrates numerous political excursions, involving various ministries that bear testament to Franco-German cooperation in their respective fields. Students often get the chance to engage in dialogue with prominent political figures, discussing Franco-German and European themes.
Initiated in 2006 by the French and German governments, this endeavor is proudly sponsored by the Ministry of Europe and Foreign Affairs and the Auswärtiges Amt (the German Federal Foreign Office). A plethora of companies and institutions have participated in the past, their details accessible via an interactive map provided by the program.
In a world where technological progress is intertwined with international collaboration, initiatives like these are vital. Not only do they offer a behind-the-scenes look at the tech industry to the leaders of tomorrow, but they also knit together cultures and economies in a profound exchange of knowledge and resources.
For companies eager to host school visits and share their world with aspiring minds, French Tech Berlin extends an invitation to participate. Additionally, for those exploring employment opportunities in France or Germany, Doctolib is actively hiring, casting a wide net beyond capital cities: Link to Job Listings.