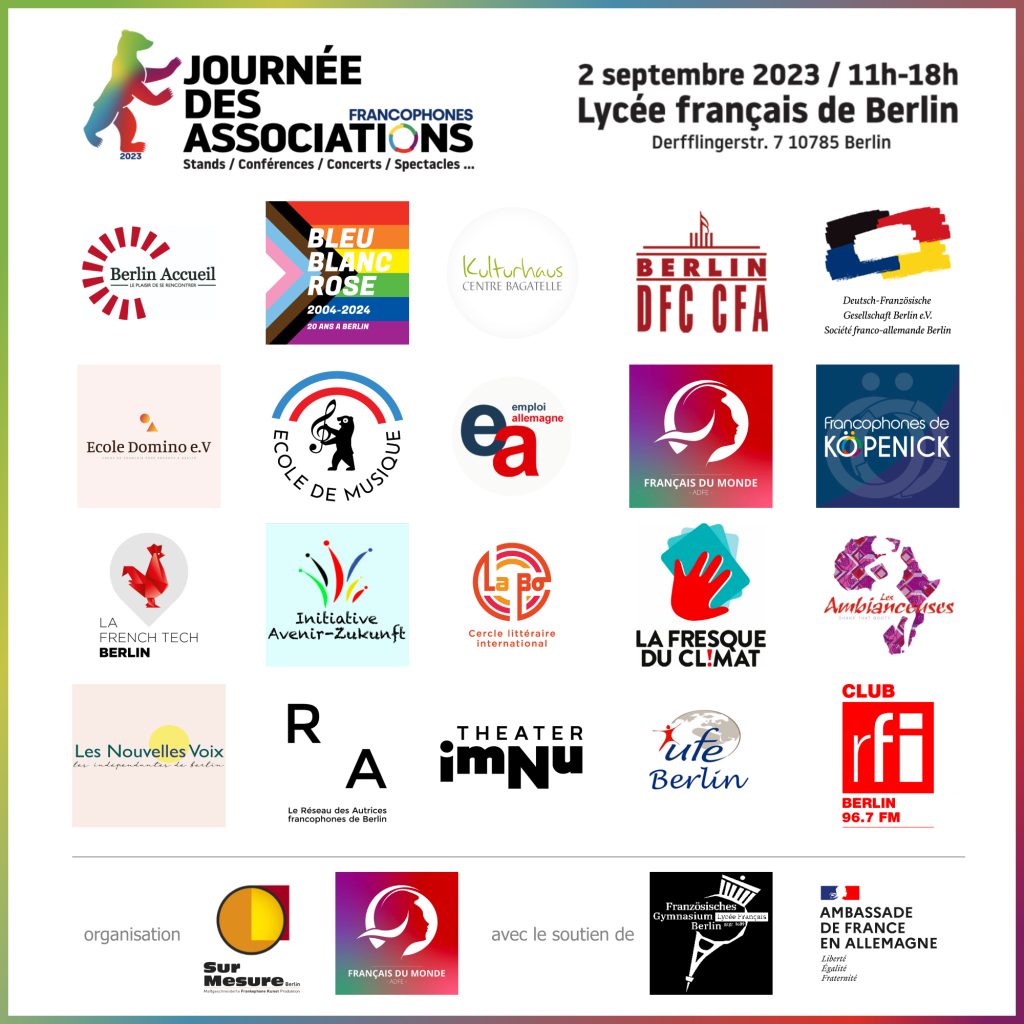 September 2nd 2023, from 11AM until 6PM.
Meet us at the Französisches Gymnasium zu Berlin (Lycée français de Berlin )
for the "Journée des Associations" this Saturday with more than 20 french-speaking organisations. You will meet :
Baguette Comedy Club,
Berlin Accueil e.V , 
BleuBlancRose , 
Cours et Jardins gUG / Les Jardins, 
Kulturhaus Centre Bagatelle e.V. ,
Deutsch-Französischer Chor Berlin,
Deutsch-Französische Gesellschaft Berlin e.V. ,
Ecole Domino e.V,
Ecole de musique de Berlin – Deutsche Französische Musikschule Berlin , 
Emploi Allemagne , 
Français du monde – ADFE ,
Francophones de Köpenick, 
French Tech Berlin ,
initiative avenir zukunft, 
La BO, Bibliothèque Orange Berlin, 
La Fresque du Climat, 
Les Ambianceuses , 
Les Nouvelles Voix – Les Indépendantes de Berlin e.V. ,
Réseau des autrices francophones de Berlin,
Theater imnu , 
Union des Français de l'Etranger – Monde ,
Club rfi Berlin.
Event organized by 
Français du monde – ADFE ,
 Sur Mesure Berlin,
with the help of Französisches Gymnasium zu Berlin – Lycée francais de Berlin and Ambassade de France en Allemagne .
Catering: Le Cèdre Blanc